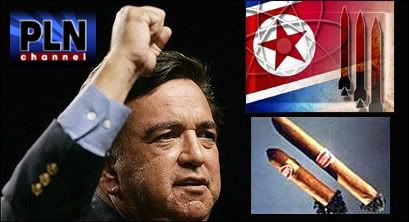 A freelance U.S. delegation, lead by radical Chavez-like New Mexican Governor Bill Richardson, has attempted to bribe North Korea in order to allow "United Nations" nuclear weapons inspectors into their wing-bat country. Richardson wants to give brainwashed North Koreans $25 Million Dollars in disputed funds, mixed in with a few dollars of American taxpayer's money, in order to allow in the same weapons inspector that FAILED to find weapons of mass destruction in Iraq. No telling how much of that cash Richardson will pocket for himself.


A high-level pentagon official has a different plan, "How about we keep the $25 Million, and give the North Koreans a taste of OUR nuclear capability. It's hard to tell which country Bill Richardson is running for President of."


These bizarre displays of freak-diplomacy have many asking "Who would vote for this man?", and answering, "Him, his wife, and possibly the local drunk he bribed with a peyote bundle."


Meanwhile on the home front Richardson has seen to it to seriously cut away at the very fabric of American society. The state over which he rules, New Mexico, has recently become front line 1 in the noble War on Drugs. In a politically suicidal move Richardson signed a "bill" legalizing marijuana for "sick" people. Richardson says, "It's the right thing to do." Former U.N. Ambassador John Bolton says, "Thank God we have Federal laws against this swarming plague of medical marijuana use. We need to reign in these rouge states turned cartels, and do away with all the Richardsons out there."


Bolton is referring to the unquestionably legitimate 1970 Federal Controlled Substances Act which forbids the use of "devil weed." Last month, in a stunning and outright victory for the Bush Administration, the 9th U.S. Circuit Court of Appeals ruled that a woman with an inoperable brain tumor may not smoke dangerous marijuana to ease her pain.


The ruling hasn't stopped states like California where anyone with a "mild cough" to a "rough morning" is allowed to have access to top quality mari-buds under state law. Carlo J. Himenez runs one of many Guerilla Keef-houses about to take New Mexico by storm. Regarding his legalized, illegal operation, "Yeah man, what? Look, it's fully legit. We just got fresh legal shipments of Afgooey, Grandfather Kush, and ***** Urkle*."


No plans have been laid out yet for what Richardson will decide to do with all the extra cash he'll make from slingin' dope. Many think he'll probably just end up giving it to North Korea.


* Due to recent racial fallout from the Don Imus story we cannot publish the full name of this particular marijuana strain.