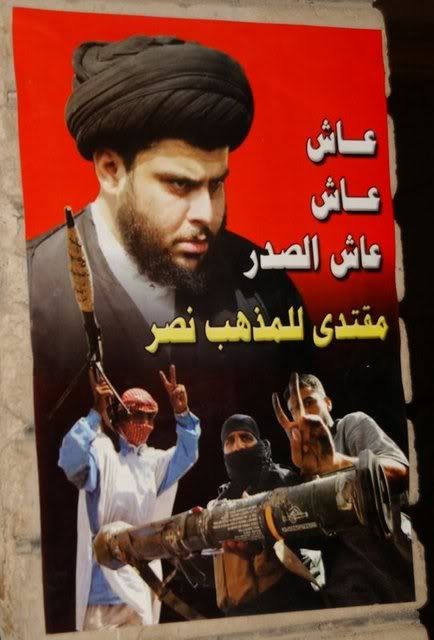 Whether the Iraqi government likes it or not, America is ready to give Muqtada al-Sadr his close up. Defense Secretary Robert Gates gave al-Sadr his full endorsement calling him a," significant political figure." Even General David Petraeus, who knows more about how well things are going in Iraq then anyone else, says the al-Sadr should be, "to varying degrees, accommodated." Senator Joe Lieberman praised al-Sadr calling him, "A stand-up guy. I like him, personally. I am a Democrat, though."
The Iraqi government has been less wiling to let al-Sadr play a part in their fresh Democracy since fighting broke out between Iraqi forces and al-Sadr's Mahdi Army militia in Basra and the Madhi Army stronghold of Sadr City. Iraqi Prime Minister Nouri al-Maliki is asking Parliament to bar any party from participating in Iraqi elections if that party maintains a militia.
What al-Maliki fails to appreciate is the fact that everyone in Iraq has a militia. "You can't go grocery shopping, take a bus, or even swim in the ocean safely without at least one small militia," notes P. Thomas Barnes of the Democratic Foundation for a Free and Democratic Iraq, "Maliki knows what he's doing. Since virtually everyone in Iraq has a militia, no one else can run for President."
America has made it double-clear that if Muqtada al-Sadr wants to participate in the legitimate political process he must give up a few of his hobbies, namely violence. Even though al-Sadr has launched countless strikes against U.S. and Iraqi forces, the U.S. Defense Department is willing to give a muted "thumbs up" to their former unofficial arch enemy.
"Iraq is a tough place," says Gates, "It needs a tough leader. Someone like...a very tough leader."