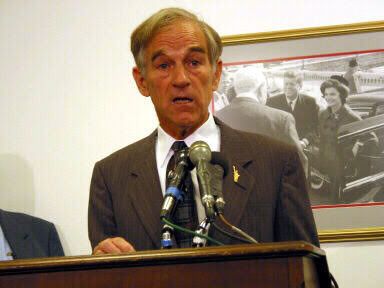 We at PLN know what you're going to say.

Yes, he's pro-life.

Yes, he wants to build a fence between the United States and Mexico.

Yes, he'll abolish welfare, social security, as well as any and all unnecessary government bureaucracies(aka: programs & services).

BUT, there are more reasons NOT to vote for Ron Paul then there are TO vote for him.

Don't let his fake victories in numerous "opinion" polls fool you, Ron Paul is possibly the single most crazily un-electable presidential hopeful since Nicole Kidman's stalker ran for the highest office in the land. A faster-than-quick glance at Paul's platform is enough to justify his absence on any ballot.

First and foremost is his non-interventionist foreign policy. Mr. Paul believes that America should stop spreading democracy to third, fourth, and fifth world nations, ensuring the global spread of radical Islamo-fascerrorism. He sternly believes the noble War On Terror is not worth fighting. Paul even went so far as to vote against the Iraq War resolution in 2002!? He treats The Patriot Act as though it were written on used toilet paper, and has tried to renege on it several times. All of these anti-security actions have prompted many to ask whether or not Paul is actually a liberal in disguise which would explain his appeal amongst confused leftists looking for ways to get back at their fathers through irrational political radicalization.
His weak stance on National Security is also bound to cost him the important military vote. Most military experts are asking, "Why would soldiers want to elect a President that's never going to send them into battle? It's counter-intuitive."

Of course the most dangerous thing about Ron Paul are the people who actually DO support him. Seasoned political analysts spit out their drinks when they learn how much money Paul receives, and where he gets it from. Studies have found that Paul rakes in over 90% of his campaign money from "individual donations", most of which are gathered on the INTERNET(!?) through the dangerous practice of "viral marketing." Simply read the term: VIRAL MARKETING. It correctly implies that Ron Paul is a virus and those who support him are prime carriers ranging from disgruntled anarchist-liberals who secretly desire to be(or be with) conservatives, all the way to libertarians so Kool-Aided out of their minds that their tongues are forever stained by Red Dye #5.

It's common knowledge that ANY Internet support translates to: "Coo-coo! Coo-coo!" The Internet is run by people who believe the holocaust, 9/11, and Jesus never existed! Paul's popularity only goes to show you just how many insane types there really are out there.

Ernst Gennero of the United Institute for Indivisible Policy Studies knows that, "America can't afford to have a President controlled by the whims of a bunch of people. It would threaten the very democracy we hold dear. What America needs is someone like a Bush or Giuliani. A president who can stand up to the American people when they don't know what's good for them, or in this case, when they've gone 100% bat-s**t crazy."

On the aesthetic front, everyone knows he's too thin. A presidential candidate can be healthy, but the line is crossed when he can officially be referred to as "svelte". When a politician is too thin people begin to ask questions about health, diet, and/or the possible use of illegal narcotics which is common amongst paranoid, conspiracy nut-jobs.

There's even a wild card in the mix of reasons why Ron Paul will never be sworn in as leader of the free-world: his two first names. Only 4 legitimate American Presidents in history have ever been elected with two first names as first and last name.*

Eventually the American people will come to the obvious conclusion that Ron Paul is as un-electable as any of the Democratic candidates out there, with the possible exception of liberal Senator Larry Craig(D-Idaho) who expressed an interest in running for President before being outed as a bathroom-gay.

* PLN will award copies of our DVD documentary "Death of a Hitler: The Saddam Hussein Story" to the first 5 people who can e-mail us the correct 4 LEGITIMATE American Presidents who were elected with two first names.