US Weekly magazine took a break from covering the latest "accidental" appearance of Britney Spear's vagina to bring us their cover story about the thoroughly charmed, ideal, and enviable life of Scientology's prodigal daughter, Suri Cruise. The magazine attempted to pass Suri off as a normal kid who loves ice cream, cake, and the barley water, milk, and corn syrup formula that Scientology advocates babies drink in their first years of life. In fact, Suri's Cruise's life has been perfect from the moment she shot out of her mother like a DC-8 from space.

"This is one lucky kid," says a family insider. It's an almost perfect picture.

The only thing holding Suri back from complete happiness is her young age. At only 2 years old Suri is too young to begin taking classes at the Scientology Center where she will eventually begin her journey on the bridge to total freedom. That doesn't stop Suri from getting a leg up on all the wogs(Scientology's special word for non-Scientologists) out there. According to a close family friend interviewed by US Weekly, "Tom doesn't like associating with people who aren't Scientologists." This will assure that Suri grows around a constant throng of true believers including her two Scientologist nannies. These aren't your regular dust-maids and vacuum jockeys. These maids are at least OT 5 level Scientologists, and are well versed in very Scientological parenting practice.

"This is all sure to rub off on Suri from the get-go," says one enthusiastic Scientologist whose job it is to track my every move as I write this story. The OT levels refer to the 7 levels on Scientology's Bridge to Total Freedom. After Suri completes all 7 levels of the bridge she will be deemed "Clear", i.e.: The Perfect Person.

As a Clear, Suri will:

- Be clear of all negative influences.

- Have perfect recognition of every moment from her past.

- Never have colds or accidents.

- Have the ability to self-cure cancer.

- Have the ability to stare down a great white shark without feeling any fear under certain, controlled circumstances.

Note: One of these attributes is actually false. Be the first to guess which one and you'll win a free DVD copy of the PLN documentary: Death of a Hitler: The Saddam Hussein Story!

Suri's had the full Scientology treatment from her first moments of human life. Katie chose to have a "Silent Birth", as is suggested by Hubbard. The silent birth consists of no one present during Suri's Scientology approved birthing ritual being allowed to make a sound, including the mother, for fear that the sound trauma will be stored inside the baby's consciousness as "Engrams". The Engrams, or trapped psychological scars, will lead to severe problems of all kinds in the future. Hubbard also wrote that the mother should use "as little anesthetic as possible," during the birthing process. The barring of anesthetic may be a test to see whether or not the mother-to-be is really into the Scientology, or just some faker.

The US Weekly article pathetically tries to paint Tom and Katie as "typical new parents" when the exact opposite is obviously true. "They basically let Suri have at planet Earth like it's her own private Battlefield," says a close family friend who demands complete confidentiality. L. Ron Hubbard advised parents to be like a friend to their child, and not to refuse them much when they want their way and throw fits.
"Keeping Scientology Working!"
Don't just take US Weekly and PLN's word for it. Famous and successful actor Giovanni Ribisi says, "Without Scientology, I'd be in an alley somewhere, looking for dope." Since the options for most people on Earth truly are Scientology or drugs, the answer was clear for Ribisi. He goes on to praise the teachings of the Scientology Center calling it, "analogous to college." A recommendation like that could be taken as a suggestion to skip out on "higher education" altogether and start skipping across the bridge to total freedom, today!

When I asked my Scientologist...um...watcher how I could do that myself she gave me a very simple test consisting of questions that really got me thinking about how my life is missing something important, but I'm not exactly sure what it is yet. To figure this out it was recommended by my "Auditor" that I take the FREE(!) Introductory communication class. She says I'm a prefect candidate for the Bridge and should begin immediately before consulting ANYONE else about my decision. To tell you the truth, I'm really jazzed! Pretty soon I'll have a chance to be hooked up to an:
E-Meter!
An e-meter is a device invented by L. Ron Hubbard which reads the presence of thetans in a person's bloodstream. Thetans are large and small alien spirits that were brought to earth 75 million years ago by an evil intergalactic overload named Xenu. It's all been proven by science and Scientology which Hubbard describes as, "The Study of Knowingness."

Here's John Travolta hooked up to an e-meter!


Hubbard performs some of his important tomato-research with an e-meter: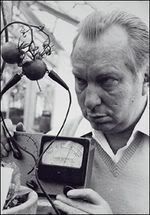 Skeptical enemies, trying to bring down a legitimate religion, have sunk so low as to ruin a family's good name. Family unity couldn't be more evident than in the case of Holmes' parents Martin and Kathleen. Together they made a trip to see the Cruise's in Berlin, proving that everything is smooth sailing. The secular left wing media has done all it can to paint a picture of a couple trying to do whatever they can to keep their daughter in their lives in at least some capacity while clinging to the hope that logic will drift back into her mind so they may pry her away from the horribly backfiring Cinderella-based nightmare that's become her life ever since she married a brainwashed embarrassment factory of a falling super-star. It's not like that at all.

As if things weren't perfect enough, Katie's been dropping hints of a possible second child. This breaking news has led the media into an all out "Bump Watch" frenz-travaganza. PLN's own special affairs correspondent, and resident Scientologist, Helga Von Streussel has thoroughly analyzed the most recent images of Katie Homes with her trained eye. Unfortunately she has concluded that, "Katie Holmes, at this time, does not have the right kind of bump which would indicate successful insemination." Explaining the intricate bump-watch procedure she says, "What were looking for here is a bump of increasing size, magnitude, and velocity. It's not so much we're looking for any old tummy-lumps. All I see in these pictures is a woman with gas...unless she had a miscarriage. That's a possibility. I'll ask her next time I see her."
The Commodore
According to my auditor(aka: trusted friend) Hubbard was a, "decorated war hero, author of Shakespearean proportions, and the greatest humanitarian known to man." Watch this video, and find out for yourself!
Remember! We at PLN deliver the news, you sign for it! This reporter looks forward to advancing along the many levels of Scientology toward total clearness. I hope the rest of the classes are free like the first one!!