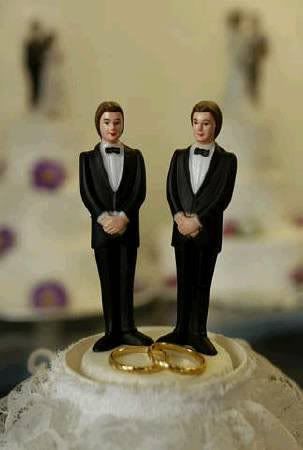 California's Supreme Court has quashed the Democrat's hopes of winning back the White House in 2008 by historically ruling to end the states' ban on gay marriage. Now that same-sex couples in America's most populous state are free to tie the knot, rational Americans will see the truest threat to democracy and a decent way of life.

Liberals everywhere are warning Christians of the possible nation-wide implications for this, the most important issue since flag-burning. In response, angry patriots at the ready to defend their country against subversionist threats to the freedom of a man and woman to marry will flock to the polls in droves.
This man values freedom.
The newest poll numbers show McCain winning with 80% of the vote over which ever democratic candidate ends up receiving the nomination. That's a 30% change from the dead heat tie in the race prior to the CA Supreme Court decision.

Many see this as California's last political stand. "The state of CA has now reached a level of sin which will surely wipe it from God's earth," says T. Ryan Danelaw of the Sensible Research Institute for Faith Driven Studies in Science. "How long have we been talking about 'The Big One'? I'd be surprised if California is even around to have a say in the 2008 Presidential election."

If John McCain has anything to say about it, they won't.